Gasoline prices at the pump recently touched their highest level since 2014, coinciding with a surge in oil prices to their highest in almost seven years, according to travel and navigation app GasBuddy.
The average U.S. price for gasoline stood at $3.26 a gallon Monday afternoon, up just over 6 cents from a week ago and $1.09 cents above the year-ago average, according to GasBuddy. Prices were at $3.262 on Saturday, the highest since October 2014.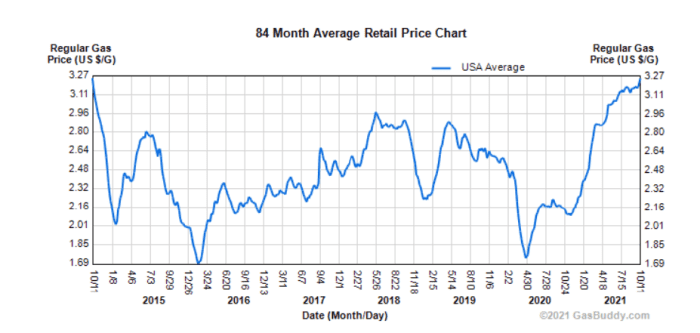 The climb in retail prices follows a surge in U.S. oil prices to their highest in roughly seven years, with West Texas Intermediate crude futures
CLX21,
+1.63%
poised to settle Monday at their highest since Oct. 31, 2014, according to FactSet data. In Monday dealings, the front-month contract traded at $81.11 a barrel, up $1.76, or 2.2%.
The nation's gas prices have also been "pushed to their highest since 2014, all on OPEC's decision not to raise production more than it already agreed to in July," said Patrick De Haan, head of petroleum analysis for GasBuddy, in a statement Monday. The decision by the Organization of the Petroleum Exporting Countries "caused an immediate reaction in oil prices, and amidst what is turning into a global energy crunch, motorists are now spending over $400 million more on gasoline every single day than they were just a year ago."
On Oct. 4, OPEC and its allies, together known as OPEC+ agreed to stick to the production agreement it reached in July to raise overall monthly production by 400,000 barrels a day from August and onward, with a goal to phase out the remaining production cuts put into place last year.
The problems for oil "continue to relate to a surge in demand as the global economy recovers, combined with deep cuts to production from early in the pandemic," said De Haan. "If Americans can't slow their appetite for fuels, we've got no place for prices to go but up."
The states with the highest prices include California, at $4.41, Hawaii at $4.09 and Nevada at $3.87, according to GasBuddy. The states with the lowest prices include Oklahoma at $2.80, and Mississippi and Texas — both at $2.89.
Looking ahead, De Haan told MarketWatch that gasoline prices are likely to rise as we progress into the fourth quarter, and there's a risk that "rising prices will take a bite out of holiday spending, since Americans are plunking down $420 million more each day on gasoline."
Still, he doesn't expect to see a huge rise in demand for the holidays, which will likely still be under pre-COVID demand, and "labor challenges may put record demand out of reach as airlines struggle for workers."