Holders of litecoin enjoyed a short-lived, 20% bounce on Monday, following a fake report that Walmart would accept the cryptocurrency as payment at its retail venues.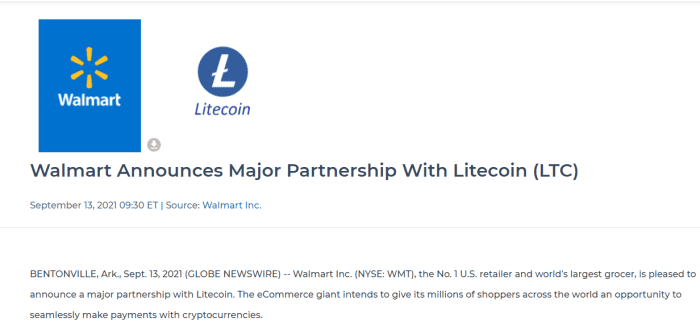 However, the Walmart Inc.
WMT,
-0.32%
said that the release wasn't authentic, sending the digital asset's price skidding lower.
Shares of Walmart were little changed on the day and has gained 1.2% in the year to date, trailing gains of over 14% for the Dow Jones Industrial Average
DJIA,
+0.67%
and 19% for the S&P 500 index
SPX,
-0.00%.
Litecoin is a virtual coin that has largely been overshadowed by the likes of bitcoin
BTCUSD,
-1.87%
and Ether
ETHUSD,
-3.53%
on the Ethereum blockchain. Some describe as crypto silver compared against bitcoin, which is seen as digital gold.
A message on a verified Twitter account associated with litecoin, which touted the fake partnership with Walmart, was deleted and a number of media venues retracted headlines and stories that had published the falsified report.
A request for comment from Walmart via email wasn't immediately returned.
At last check, litecoin
LTCUSD,
+0.25%
was changing hands at $181.26, or down about 1.5% on CoinDesk, but was still boasting a year-to-date return of about 50%. It had reached a 24-hour high on Monday of $236.26.
Litecoin was created by Charlie Lee in 2011 and is the first alternative to bitcoin, using the same software architecture as the world's most popular crypto.
Lee is a software engineer who worked at Google Inc.
GOOGL,
+0.71%
GOOG,
+0.83%
and Coinbase Global
COIN,
-2.65%.
About a decade ago, he created litecoin, using the bitcoin's open-source software to create what he hoped was a crypto that offered faster settlement times and lower transaction fees than bitcoin.
A request for comment from the Litecoin Foundation, which Lee founded, also wasn't immediately returned.