The numbers: The economy created a stingy 194,000 new jobs in September to mark the second disappointing increase in a row, suggesting a lack of labor could frustrate the U.S. recovery in the months ahead.
The increase in hiring fell well short of Wall Street's forecast, exacerbated by a decline in employment at public schools. Economists polled by The Wall Street Journal had forecast 500,000 new jobs.
The unemployment rate, meanwhile, slipped to 4.8% from 5.2% and touched a new pandemic low. Yet the official rate underestimates the true unemployment by a few percentage points, economists estimate.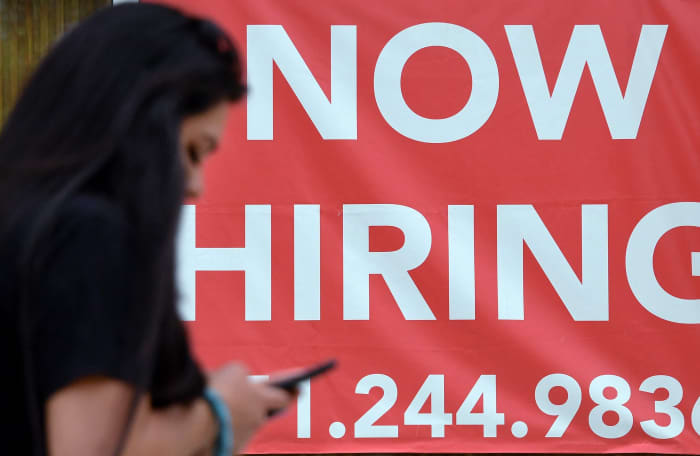 What's worse, the size of the labor force actually shrank by 183,000 in September and mostly explains the large drop in the level of unemployment.
The percentage of people in the labor force fell a tick to 61.6% and it's still almost 2 points below its pre-crisis peak.
One of the biggest problems the economy faces right now is enticing enough people to return to work. Many businesses lack sufficient staff to produce enough goods and services to keep up with demand.
The tepid September jobs report adds to growing evidence the recovery has slowed, but it probably won't deter the Federal Reserve from announcing plans soon to start to wean the economy off its easy-money strategy.
Read: Economists see growing chance of earlier Fed rate hike
U.S. stocks were set to to decline in premarket trading.
Big picture: The speed of the economic recovery could depend largely on many workers rejoin the labor force in the coming months.
Record U.S. job openings show there's plenty of demand for labor. And with delta starting to fade, even more companies might be willing to hire.
Read: Economy perks up again as delta ebbs, but shortages still a big worry
The problem is, the labor force is missing as many as 6 million people who likely would be working now had there never been a pandemic at all.
What might nudge more people to return to the labor force soon are the end of extra federal benefits for the unemployed and most schools reopening for in-person learning. But it will take several months to see if they are coming back — and how quickly.
Read: U.S. jobless claims sink 38,000 to 326,000 in sign of improving labor market
Market reaction: The Dow Jones Industrial Average
DJIA,
+0.98%
and S&P500
SPX,
+0.83%
were set to open lower on Friday. Stocks turned from positive to negative in premarket trading after the jobs report.