"It's over."
That was Bank of America summing up a monthly global fund managers survey that could offer the latest proof that investors have at least mentally turned a corner when it comes to the COVID-19 pandemic.
Its chart reveals what investors view as the biggest "tail risks," or relatively unlikely events that could cause outsize losses or gains. It marks the first time in more than a year that COVID-19 isn't at the top of that list.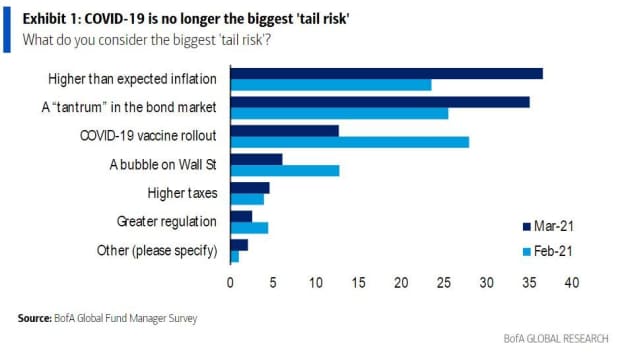 "A year ago, COVID-19 was named a global pandemic on March 11th. COVID-19 has been named for the last 12 months as the [No. 1] investor 'tail risk.' This month, however, for the first time since [February 2020], it is no longer the largest risk," said a team at Bank of America led by chief investment strategist Michael Hartnett, in a note to clients.
COVID-19 has been replaced in the March fund-manager survey by inflation, which was indicated as a bigger risk by a net 37% of those surveyed, and "taper tantrums," seen by 35% as a bigger risk, Hartnett said.
Steep gains in bond yields
TMUBMUSD10Y,
1.604%
in recent weeks have raised the chances in the eyes of investors of a "taper tantrum" like the one in 2013, when the prospect of rising rates rattled the broader market. A sudden jump in rates has also recently put pressure on growth stocks and increased concerns about an inflation surge amid trillions of dollars' worth of pandemic stimulus aid.
Read: Fed should 'switch' up its playbook and buy more Treasurys, fewer mortgage bonds, urge analysts
Yet bullishness abounds as stocks stomp to new highs and COVID-19 vaccines roll out across the U.S. The survey shows a net 48% of those surveyed see a "V-shaped" recovery, a quick and sustained bounce for the economy, up substantially from just 10% in May 2020.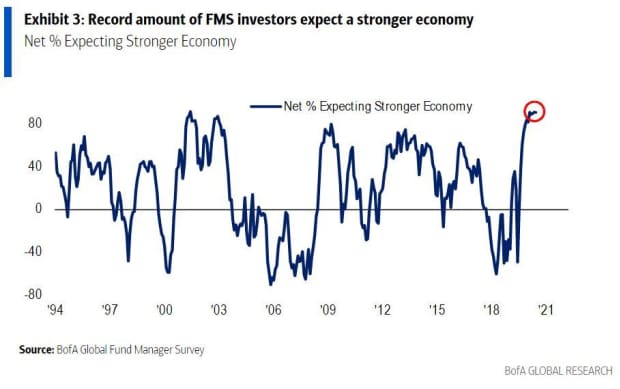 A net 89% of managers surveyed see improving global corporate profits over the next year, beating highs from February 2002 and December 2009.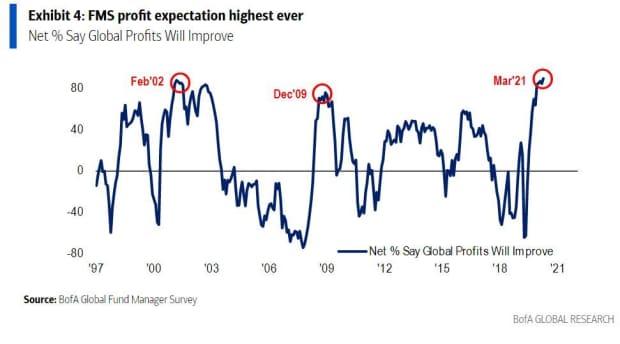 Expectations for higher yields have fallen: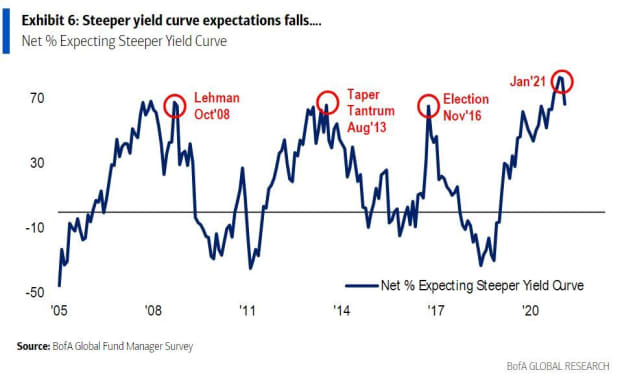 Higher growth and higher inflation are dominant expectations: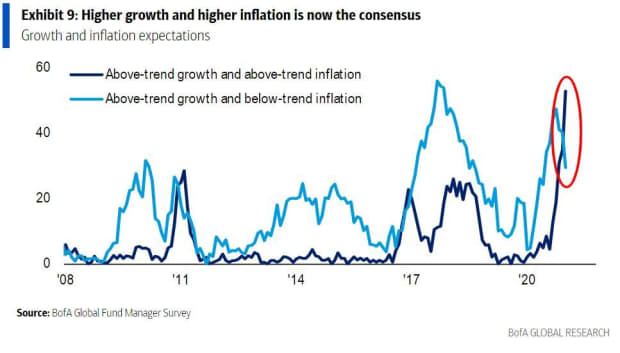 Those investors who think a bubble is brewing are in the firm minority: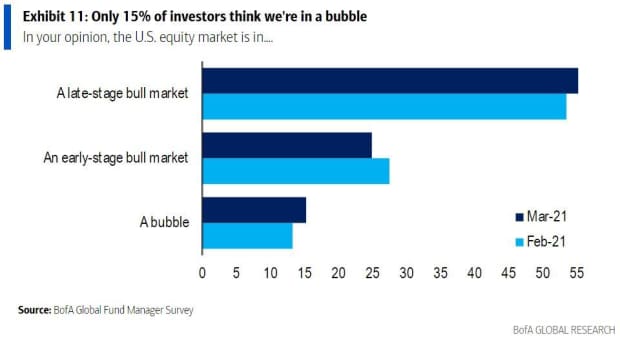 And here's where investors are leaning now: cyclical stocks geared to that post-pandemic recovery. Managers cut exposure to technology stocks to the lowest level seen since January 2009, Bank of America found: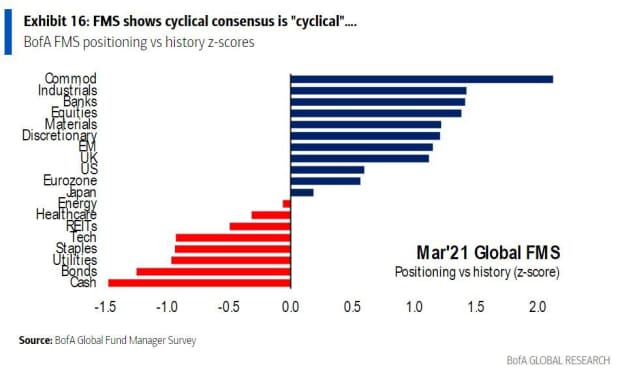 And here's a look at the way we were — a year ago when the pandemic was unfolding and investors were playing defense: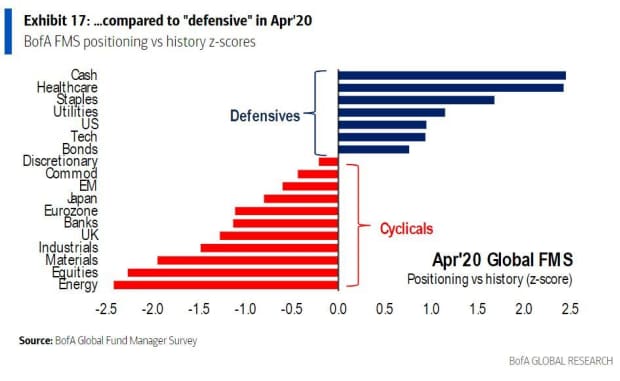 Read: Americans ready to pour $40 billion into bitcoin and the stock market as stimulus checks arrive: survey