The Dow Jones Industrial Average was under modest pressure in afternoon trade, but the S&P 500 and Nasdaq were pushing higher as investors absorbed a huge batch of earnings from technology heavyweights, including Alphabet Inc. and Microsoft, as well as McDonald's Corp., Boeing Co. and others.
Investors also were digesting a surprise decision by the Bank of Canada to immediately suspend its large-scale bond purchases, potentially paving the way for Canadian rates to rise as early as next spring, which was credited with partly sparking a rush into haven U.S. 10-year Treasury debt.
How are stock indexes trading?
The Dow Jones Industrial Average
DJIA,
-0.20%
fell 89 points, or 0.2%, to 35,666.
The S&P 500
SPX,
+0.18%
was 5 points higher, or 0.1%, at 4,580.
The Nasdaq Composite
COMP,
+0.80%
was up 114 points, or 0.8%, at 15,348.
On Tuesday, the Dow and S&P 500 both finished at records, while the Nasdaq Composite finished less than 1% below its record close from Sept. 7.
See: MarketWatch and Barron's are gathering the most influential figures in crypto to help identify the opportunities and risks that lie ahead in digital assets today and Nov. 3. Register now.
What's driving the market?
Stocks looked to push deeper into record territory on Wednesday, after already notching a string of record closes during a robust third-quarter earnings reporting season.
While earnings have been "particularly strong," posting a sixth straight quarter of double-digit beats, investor willingness to pay more for higher earnings has been a key to a rally that's taken the S&P 500 up by more than 6% so far this month, said Jonathan Golub, chief U.S. equity strategist at Credit Suisse Securities, while pointing to the rise in stock multiples from 20 times earnings to 21.1 as being "the real driver of the market's advance," in a Wednesday note (see chart below).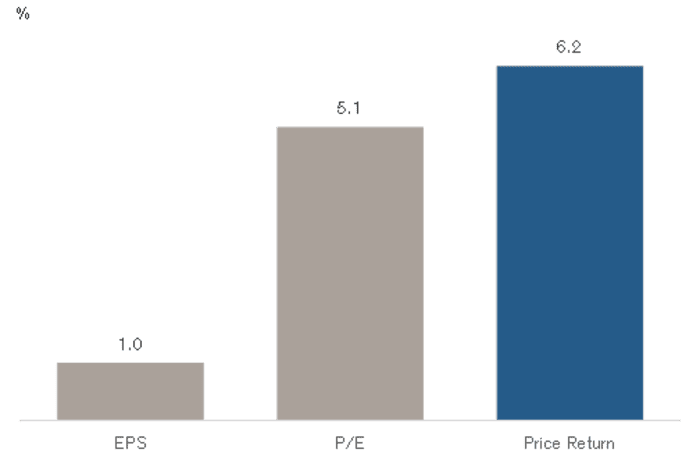 "Although investors fear that higher interest rates, inflation, and energy prices are potential headwinds, these indicators reflect economic vibrancy, supporting higher stock prices," Golub said.
Meanwhile, in a surprise move Wednesday, the Bank of Canada said it would abruptly end its bond buying program and warned of prolonged inflation through 2023, while also signaling it may hike interest rates sooner than expected, the second quarter of 2022.
Jim Vogel, fixed-income strategist at FHN Financial, attributed sharp moves lower in long dated U.S. Treasury yields on Wednesday to an "over reaction" by investors to the sudden change of tone by the Bank of Canada, adding that "most were looking to the ECB tomorrow for possible dovish central bank messaging, not north for actual hawks today," in emailed commentary.
Lower U.S. Treasury yields helped to support technology stocks whose valuations are sensitive to bond yields, while good earnings reports from Google and Microsoft late Thursday also helped. Tech stocks may also be benefitting from fading chances for corporate tax increases in the White House budget plan.
"The Nasdaq continues to outperform following robust mega-cap tech results and as Democrats struggle to find ways to increase taxes," said Edward Moya, Senior Market Analyst, The Americas, at OANDA. "Kryptonite for big-tech has always been raising taxes and regulation.  With Senator Joe Manchin showing little openness for tax increases, tech stocks are soaring."   
Microsoft Corp. MSFT reporting quarterly earnings that shot over $20 billion for the first time, late Tuesday. Shares rose 5% to $325.85, on track for a record close, according to Dow Jones Market Data. Google parent Alphabet Inc. GOOGL reported earnings that topped estimates amid resilient advertising sales. Its shares rose 6.1%.
Read:Apple's 'ad-mageddon' is affecting Snap, Facebook, Google and Twitter differently
Data showed U.S. durable goods orders fell 0.4% in October, compared with expectations for a 1% decline. "Core" orders rose by 0.8%. Separately, the government said the trade deficit widened in September.
"The weakness in headline durable goods orders last month was driven by another fall in transport orders, which mostly reflects worsening supply problems in the auto market," said Michael Pearce, senior U.S. economist at Capital Economics. "The strong increase in underlying orders and shipments suggests that demand remains solid."
See: Why it's wrong to compare today's inflation surge to 1970s-style 'stagflation'
Elsewhere, Sino-U.S. tensions were in focus after the Federal Communications Commission gave China Telecom
728,
-0.73%
60 days to leave the U.S. market. Regulators cited a potential national security threat from the company, such as the disruption of U.S. communications, amid rising tensions between the countries.
Which companies are in focus?
What are other markets doing?
Barbara Kollmeyer contributed reporting