This article is reprinted by permission from The Escape Home, a newsletter for second homeowners and those who want to be. Subscribe here. © 2021. All rights reserved. 
This has not been Airbnb's week. 
A tweet on Monday went viral with a screenshot showing fees and cleaning, combined, surpassing the nightly rate. Here it is: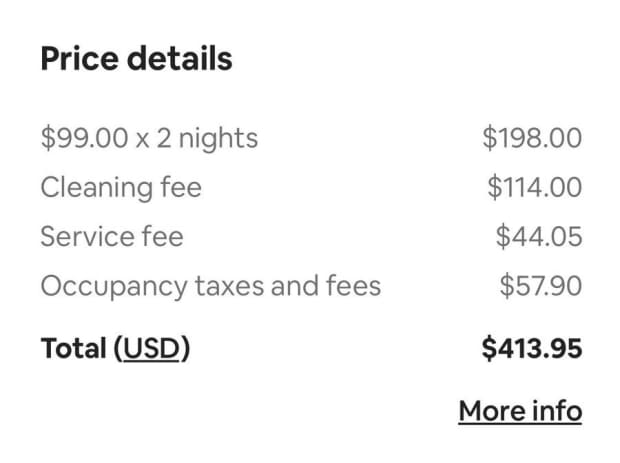 In somewhat of a lackluster response, the company posted an article on its site the following day, titled "Fee transparency on Airbnb."
"Hosts need to set their own cleaning fees because everyone is in a different position when it comes to cleaning. There is a big difference between cleaning a small studio apartment as opposed to cleaning a five-bedroom house. Additionally, some Hosts choose to clean listings themselves to reduce costs, whereas others hire professional cleaners.

We again want to be clear that guests have visibility into the cleaning fees before committing to a stay and therefore can factor the fee into their decision-making."
The roast of the company continues this week, not only on social media, but also at the Skift Short-Term Rental and Outdoor Summit.
Below are some noteworthy summer 2021 travel trends; also side note, we're really glad we told you about most of these in previous issues of The Escape Home: 
See above. Airbnb really was criticized by speaker after speaker at the summit, from the limits of its technology to the quality of its guests. Bear in mind this summit attracts industry (and not said unruly guests) but it's a far cry from the hoopla over Airbnb's IPO last year, the largest of 2021.  
Travel's recovery is uneven. Europe's travel recovery seems a way off, despite this week's announcement that the EU is going to be opening back up to travelers shortly. Booking.com's dependence on the market was blamed for its inability to bounce back as fast as its travel counterparts. (You know where is open to travelers? Mexico, and Americans are snapping up vacation properties.)
The line between hotels and short-term rentals is blurring as the latter goes more mainstream. During the pandemic, 20% of Vacasa's guests were new to vacation rentals, according to chief financial officer Jamie Cohen. Also significant: While the majority of Vacasa users are in the 25 to 44 years old, recently the 45 to 64-year-old cohorts have accounted for the most growth. 
Tech, tech, tech. One reason the short-term rental market has been a formidable threat to the hotel industry is that it is investing in tech, making the user experience seamless (people want to be able to book an accommodation with similar ease to ordering an Uber). "During the COVID-19 (pandemic), the industry has shown resilience and growth and innovation," said Vered Raviv Schwarz, president and chief operating officer of property management platform Guesty. "We feel there is more professionalism in this space. A lot of the companies and property managers used this time to learn how to cater to a larger audience, how to automate processes and become more efficient." 
This summer is really going to be crazy in terms of inventory. Jeff Hurst, president and marketing co-lead of Expedia, bluntly said: "Some people are going to not be able to go to the Outer Banks this summer." He advised travelers to book early. BUT… experts said how quickly calendars are booking up is not always a good sign (for hosts). Here, we listed some destinations that still have availability. 
Surge pricing is annoying everyone. There are plenty of real-estate technology and pricing tools out there, but can they keep up with sudden additions of IRL programming (the return of big events from Lollapalooza in Chicago to local draws like the Mattituck Strawberry Festival, for example)? Audience questions really got into the guts of bookings, pricing and management. "Airbnb is just not set up for professional property management," said HomeAway's co-founder Carl Shepherd. 
The great outdoors are here to stay, with glamping and RV-ing emerging as key trends. Jennifer Young, co-founder and chief marketing officer of Outdoorsy, an online RV rental marketplace, said the company started out 2021 with over 145% growth, which was in large part driven by people who had never rented an RV before. "A year of a new consumer behavior habits is long enough to open up new possibilities and so I think you're seeing certainly Americans move from a few cities to everywhere in their minds' eye about where they could live or where they could travel," she said. (We gave you the scoop on glamping a couple of weeks ago.)
This article is reprinted by permission from The Escape Home, a newsletter for second homeowners and those who want to be. Subscribe here. © 2021. All rights reserved.