Unlike most celebrities tapped to host "Saturday Night Live," Elon Musk won't just phone it in. He'll Autopilot it in.
The bar may not be very high for a show that quarter after quarter fails to beat even its low analyst expectations, but showrunner Lorne Michaels is betting that Musk, whose ego and ambitions cannot be contained by the Earth's gravitational pull, can supercharge the storied variety's show's ratings to the moon.
When the billionaire Tesla
TSLA,
+2.02%
and SpaceX CEO takes to the 30 Rock stage on May 8, the live studio audience is likely to be made up of more than the usual number of SEC lawyers. Musk proved himself unable to doge the dogged regulators in 2018, when he tweeted he had "funding secured" to take Tesla private. He paid a fine of $20 million and had to step down as chairman.
In actual news: Tesla to report first-quarter earnings amid renewed concerns about its Autopilot
That may be little more than a  parking ticket to the richest man in the world, but the SEC seems poised to have the last laugh.
In addition to an early draft of a "Flamethrowers, flamethrowers, flamethrowers!" sketch, MarketWatch somehow obtained Musk's prepared opening monologue, after it has been redacted by the SEC. Michaels might want to put the SEC's lawyers on the payroll, as the edited opening looks to be the funniest the show has had in years.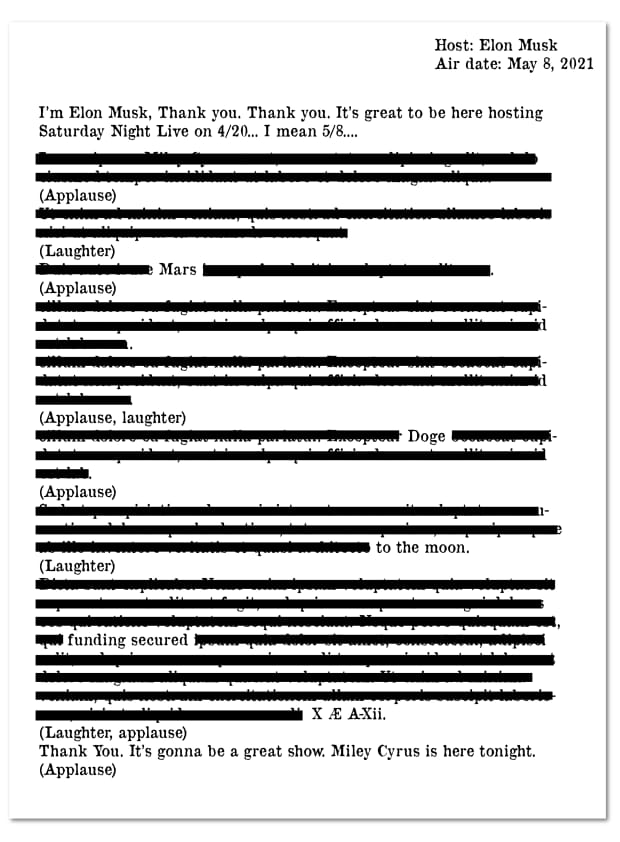 Editor's note: We apologize if this attempt at humor fell short of the moon.