There is no time like the present.
That's Larry Adam, chief investment officer at Raymond James, on why he thinks that after 18 months of support, the time has come for the Federal Reserve to "sideline" its $120 billion a month bond purchases program.
"As many of the Fed officials have implied, the goals of quantitative easing are to increase confidence, narrow credit spreads, reduce volatility, and raise asset prices," Adam, CIO of Raymond James' private client group, wrote in a weekly note, of the Fed's "quantitative easing" program.
"Since the onset of the pandemic and the implementation of such actions, these four goals have all been achieved."
The easing effort kicked off in March 2020 to help stabilize markets, resulting in the Fed buying roughly $80 billion of Treasurys
TMUBMUSD10Y,
1.325%
and $40 billion of mortgage-backed securities
MBB,
+0.03%
each month, while roughly doubling its balance sheet to $8.4 trillion.
Confidence among investors, consumers and businesses since has increased, reflected in "consistently strong personal consumption and business spending plans," Adam wrote, adding that "asset prices have surged, leading net worth levels to reach record highs."
Read: U.S. wealth grew by $19 trillion during the pandemic — but mostly for the very rich
U.S. stocks on Monday were adrift slightly, but with the Dow Jones Industrial Average
DJIA,
+0.76%
poised to snap a 5-session skid and the S&P 500 index
SPX,
+0.23%
up nearly 19% for the year.
With the Fed's support, U.S. companies during the pandemic also have been borrowing at some of the cheapest rates of the post 2008 period, with spreads in the roughly $11 trillion U.S. corporate bond market hovering near multiyear lows.
Adam also pointed to market volatility that has remained low, namely, with the S&P 500 only seeing 34 daily swings of 1% (up or down) this year.

Finally, instead of a prolonged economic crisis, the following chart also shows Fed officials projecting economic growth this year to reach 7% on an annual basis, and in 2022 hover near 3.3%, both well above the Fed's 2% target.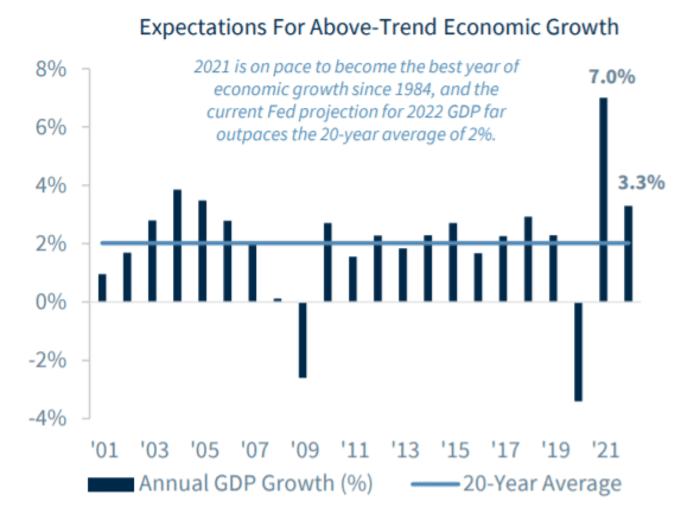 "Given the success of quantitative easing so far and the diminishing impact of further purchases, it is prudent for the Fed to sideline this tool for any future economic crisis," Adam wrote.
What about raising interest rates? That's something Adam doesn't expect the Fed to begin until 2023.
Read: When the Fed finally steps back, can the U.S. stock and bond markets stand on their own legs?